Sydney Improvisers Composers Kollective Orchestra
We have a new weekly home for exploratory music.
The Slyfox Hotel in Enmore are generously supporting this event.
S.I.C.K.O Sundays at the SLYFOX.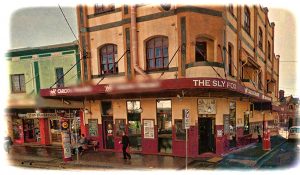 EVERY SUNDAY, the doors will open at 6pm, with first act at 7pm.
From 10pm-12pm there will be DJ's or electronic acts, featuring well loved DJ's that have kept Newtown weird and also guest DJ's drawn from featured artists.
S.I.C.K.O will also regularly feature the SICKO. An orchestra focused on improvisatory conducting techniques, based on work by various systems created by Karlheinz Stockhausen, Butch Morris, Frank Zappa, John Zorn and Walter Thompson.
LAUNCH PARTY CONCERT will be SUNDAY APRIL 29.
more details to follow, you can contact us here or at www.facebook.com/SundaysAtSlyfox/