An ensemble of Sydney's finest composers, performers and improvisers, featuring players from classical, jazz, electronic and new music streams.
 The conducted improvising ensemble is an intersection of many paths of streams, Karlheinz Stockhausen, John Cage, Frank Zappa, Sun Ra, Miles Davis, John Zorn and Butch Morris, Iannis Xenakis are a few who have contributed to the concept.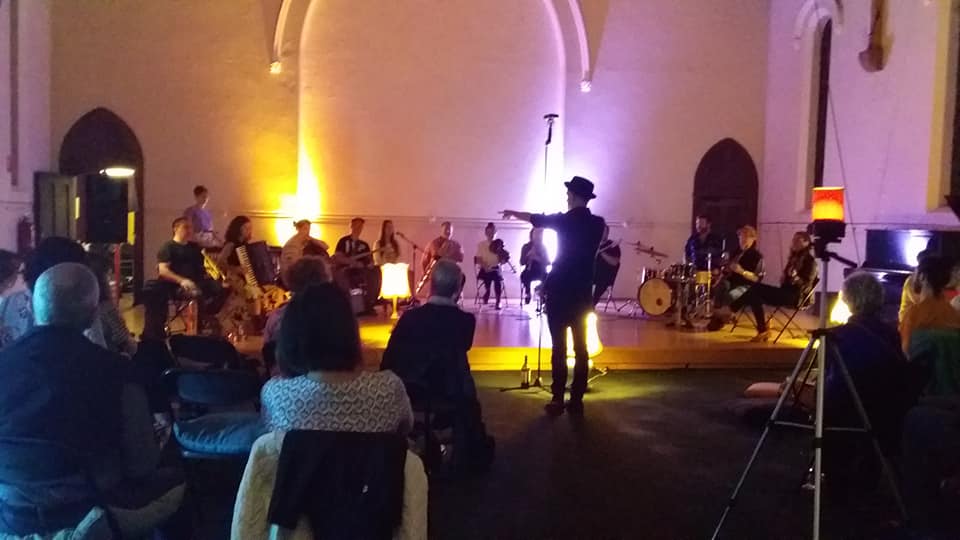 This is the only ensemble of it's type in Australia.
"A vocabulary of ideographic signs and gestures activated to modify or construct a real time musical arrangement of any notation or composition. Each sign and gesture transmits generative information and provides instantaneous possibilities for altering or initiating harmony, melody, rhythm, articulation, phrasing, or form" – Butch Morris
"A dynamic and entertaining show, we were riding on the edge of their seats watching the music take shape"
Strings
Violin – Susie Bishop
Viola – Veren Grigorov
Cello – Mary Rapp
Brass
Trumpet – Ellen Kirkwood
Trumpet – Lee McIvor
Trombone – Ben Greenslade-Stanton
Woodwinds
Clarinet/ Bass Clarinet – Jason Noble
Flute/Alto Flute – Trevor Brown
Alto Saxophone – Phillip Johnston
Bariton Saxophone – Ian Pieterse
Percussion
Vibraphone – Niki Johnston
Marimba – Adam Jeffery
Drumset – Ivan Jordan
Piano – Danial Pliner
Accordion – Emily-Rose Sarkova
Guitar – Julian Curwin
Electric Bass- Josh Ahearn