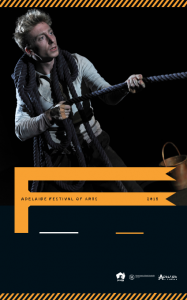 DIRECTOR AND WRITER Chiara Guidi FACILITATOR AND CREATIVE PRODUCER Jeff Stein
ARTISTIC ASSOCIATE Scott Wright PERFORMERS Skye Gellmann, Katia Molino, Drew Fairley, Christa Hughes, Scott Wright ASSISTANT TO THE DIRECTOR, TRANSLATOR AND PERFORMER
Nadia Cusimano CO-COMPOSER/ARRANGER AND MUSICIANS Trevor Brown (Flute, Saxophone, Bass Clarinet, Percussion), Veren Grigorov (Violin)
SOUND DESIGN Max Lyandvert SET DESIGN AND CONSTRUCTION Erth Visual and Physical
(Scott Wright and Steve Howarth) LIGHTING DESIGNER AND PRODUCTION MANAGER Mark Haslam
TECHNICAL ASSOCIATE AND STAGE MANAGER Niccolo Gallio
ERTH STUDIO TEAM Aesha Henderson, Alice McKaig, Aron Dosiak, Brett Wilbe, Celia Curtis,
Chloe Flockhart, Ella McInnes, Emily McKaig, Samantha Hickey, Katrina Lynch, Matina Moutzouris, Max Meyer, Michael Cullen, Patrick Coy, Phil Downing, Renata Pari-Lewis
EXECUTIVE PRODUCER
Lee Cumberlidge and Jason Cross, Insite Arts
THE PRODUCTION WOULD LIKE TO THANK Malcolm Hill, David Fox, Performance Space, Sydney Theatre Company, David Sefton – Adelaide Festival, Anna Young – Erth Visual and Physical, Patch Theatre
A NOTE FROM CHIARA GUIDI                                        
The tree in different cultures symbolizes wisdom. Jack climbs along a tree going from the earth to the sky, and from the sky back to the
earth. He goes up and down many times. He goes beyond the sky, away from the earth – then he returns home.
While moving from place to place, Jack is connecting what is down with what is up, giving the narrative a metaphorical function. The action of going up and down, ascending and descending, are the magical verbs for transformation!
Jack invites us to climb up to extend our vision towards frontiers nourished by our imagination which 'fairytale' makes possible and concrete, because they are part of reality itself.
A NOTE FROM JEFF STEIN                                             
Since the first Bean was planted, some 15 years ago, when I first saw the work of Raffaello Sanzio, till today when the stalk of this project has finally grown, it has been a hard but rewarding journey.
Firstly there was the incredible inspiration of Chiara Guidi and Raffaello Sanzio, secondly the Australia Council fellowship that allowed me to research, then Campbelltown Arts Centre to give us a context to explore and develop, Erth to realise the vision and finally Insite Arts and Adelaide Festival to move this project to its finality and reality.
At times I have had to be Jack and scramble to climb with reckless abandon, at other times the Ogre and be brutal and stomp my way through.
I'd really like to thank one and all who at various times participated in this journey and helped make it possible, especially Chiara for her unrelenting passion for theatre and to my son Harpo, who I hope will one day dream, imagine, climb, plunder and pilage, all in the name of art.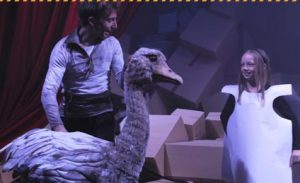 CHIARA GUIDI                                                              
Chiara Guidi founded Socìetas Raffaello Sanzio in 1981 with Romeo and Claudia Castellucci: she was the soul of dramatic rhythm and vocal composition for the company's productions, performed all over the world at the major international festivals and theatres. Since the 1990s she has also created an intense artistic experience with children as part of her research and analysis of the relationship between voice and childhood, with works such as Hänsel and Gretel and Buchettino. In 1998 she won the Ubu
Special Prize for La Scuola Sperimentale di Teatro Infantile, Children's Experimental Theatre School, whose name reflects the derivation of the word
in-fans: meaning 'unable to speak', an aesthetic experience encompassing all the senses and not yet filtered by words. In 20 years the play Buchettino has encountered children from all continents and today versions of the play are being produced by local theatre companies in Korea, Japan, Taiwan, Chile, Denmark and Spain.
Since 2008 in Cesena, Italy, Chiara Guidi has been artistic director of 'Màntica', a program of theatre and music, and in 2011 she inaugurates 'Puerilia' for younger audiences. For both festivals in 2013 she received the prestigious UBU award in Italy.